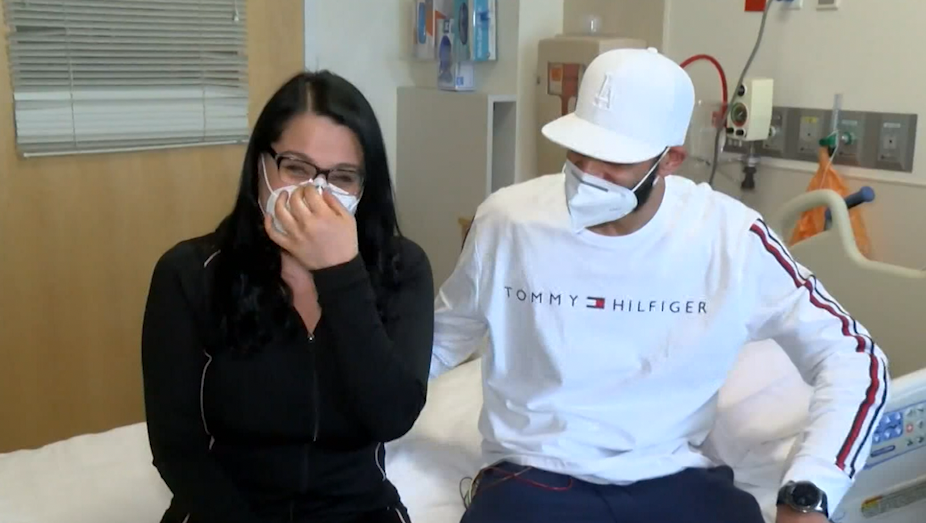 Michael Simon said his wife has always been his hero. Doctors say that's really true and credit her for saving his life when he recently suffered a heart attack. Veronica Armas-Simon had just renewed her CPR certification the week before she found her 37-year-old unresponsive in the garage at their Las Vegas home. "He was gasping for air, so I ran up, got my phone and called 911," she told KSNV. When she began CPR a short time later, Armas-Simon said she took it more seriously than ever before. "I was really into it for some reason," she said. "Any other time I get certified I'm like, 'OK, I'm getting it done,' but this time I was really into it and really practicing hard because I just felt like you know, maybe one day I'll save a life and I happened to save my husband's."Emergency room physician Dr. Randy Bess credited Armas-Simon for the nine minutes she performed CPR and said it gave her husband a better chance to survive."In the hospital, we rotate out every two minutes because you get so tired, so I'm impressed that she was able to do that," he said. "Time is tissue and if we can provide any sort of support by doing CPR for any time before paramedics are able to arrive, this definitely gives the patient or family member in this case the best chance of survival."Michael Simon was grateful to be able to go home and recovery with his wife and two daughters.s "We have been together for 19 years, so it's been a long road for us and this was just one of those times where, at least in my opinion, it brought us closer than ever before."
LAS VEGAS (Video: KSNV via CNN) —
Michael Simon said his wife has always been his hero.
Doctors say that's really true and credit her for saving his life when he recently suffered a heart attack.
Veronica Armas-Simon had just renewed her CPR certification the week before she found her 37-year-old unresponsive in the garage at their Las Vegas home.
"He was gasping for air, so I ran up, got my phone and called 911," she told KSNV.
When she began CPR a short time later, Armas-Simon said she took it more seriously than ever before.
"I was really into it for some reason," she said. "Any other time I get certified I'm like, 'OK, I'm getting it done,' but this time I was really into it and really practicing hard because I just felt like you know, maybe one day I'll save a life and I happened to save my husband's."
Emergency room physician Dr. Randy Bess credited Armas-Simon for the nine minutes she performed CPR and said it gave her husband a better chance to survive.
"In the hospital, we rotate out every two minutes because you get so tired, so I'm impressed that she was able to do that," he said. "Time is tissue and if we can provide any sort of support by doing CPR for any time before paramedics are able to arrive, this definitely gives the patient or family member in this case the best chance of survival."
Michael Simon was grateful to be able to go home and recovery with his wife and two daughters.s
"We have been together for 19 years, so it's been a long road for us and this was just one of those times where, at least in my opinion, it brought us closer than ever before."