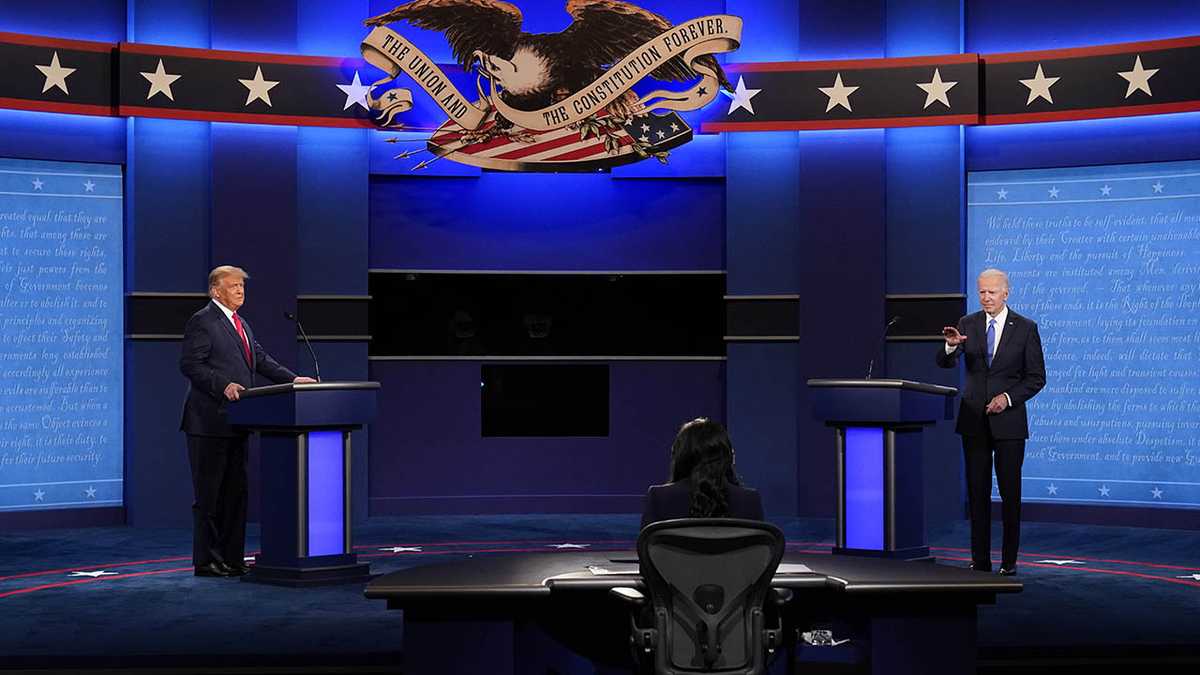 Watch the debate live in the video player above10:30 p.m. ETIn talking about race, President Donald Trump said no one has done more for the Black community than he has — with the exception, "possible exception," of President Abraham Lincoln.Trump later switched his remarks, saying not since Lincoln has anybody done what he's done, citing his efforts in criminal justice, prison reform and long-term funding for Historically Black Colleges and Universities.Attacking one another's record and defending their own, candidates discussed issues ranging from Black Lives Matter to criminal justice reform.Trump questioned why the Obama administration did not do more to pass criminal justice reform. Former Vice President Joe Biden cited the administration's ties to the release of 38,000 federal prisons and clemency to over 1,000 people.Biden also stressed that no one should be going to jail if they have a drug problem, suggesting a fundamental overhaul of the criminal justice system.Trump continued to question why Biden didn't carry out plans for change during his eight years as vice president.10:10 p.m. ETThe third topic transitioned to health care and the economy and how they impact American families.As Senate Judiciary Committee Republicans advanced Amy Coney Barrett's Supreme Court nomination Thursday, Welker questioned Trump on what his plan would be if the Affordable Care Act gets overturned when the Supreme Court hears the case in November.Trump touted the elimination of the ACA's individual mandate during his administration and vowed that those with preexisting conditions would be covered under a plan that would take over for the ACA.Biden said his health care plan would allow for a public option and that he supports private insurance, something he said made him different than his Democratic challengers.Trump said Biden is pushing for "socialized medicine" and that his running mate, Sen. Kamala Harris, is helping push for it. Welker then pivoted to jobless and poverty rates amid the pandemic. Trump said a relief bill has been stuck in the negotiation process because House Speaker Nancy Pelosi doesn't want a deal.Biden said Democrats have tried to pass it but Republicans are saying they would not have the votes.The debate turned to immigration policies for both candidates. Welker asked Trump if the administration had a plan to find the parents of more than 500 kids who were separated from their parents at the border. Trump said the kids came over through coyotes, cartels and gangs. But, he said, people being held at the border were being taken care of "very well."Biden countered and said the kids separated at the border came with parents.Welker questioned Biden on the Obama administration's failure to pass immigration reform.Biden conceded they got it wrong. He said he will send a pathway to citizenship for 11 million undocumented people within his first 100 days in office. Trump mentioned Biden had eight years as vice president to make changes and that his own administration has made changes over the past four years. Trump and Biden went back and forth on the catch-and-release policy and what the purpose of it was under the Obama administration. Trump eliminated it.10:00 p.m. ETBoth candidates pointed to their opponents' finances in talking about foreign threats.President Donald Trump claimed the Biden family received $3.5 million from the wife of a Moscow mayor.Former Vice President Joe Biden responded that he hasn't ever received a single penny from another nation.In a back-and-forth of who was profiting in foreign countries, Trump said Biden makes money from China, Ukraine or Russia. Biden claimed Trump was profiting from several foreign countries.Moderator Kristen Welker also asked about a recent report regarding a Trump bank account in China.Trump said he opened the account in 2013 and believed it was closed in 2015. He said he closed it before he even ran for president.The debate also moved into discussing North Korea, leading Trump to say we're not in a war and they have a good relationship. Biden questioned that the U.S. must have had a good relationship with Adolf Hitler before he invaded the rest of Europe, adding "Come on."Trump said the previous administration left him a mess and put the U.S. in a dangerous position.9:30 p.m. ETThe debate began with the coronavirus pandemic on a day where the death tolls from the virus topped 222,000.Debate moderator Kristen Welker asked the candidates to be specific and describe how they would lead the country through the next stage of the pandemic.During his two-minute response — in which he harkened back to past models that estimated 2.2 million Americans could die from from COVID-19 and discussed his own diagnosis and recovery — Trump broke some news, saying a vaccine could be available in the U.S. and announced in a few weeks. After Biden retorted, saying he would institute national masking and reopening guidelines, Welker went back to Trump's vaccine claim. Trump said he has the military prepared to distribute potentially 100 million vials of a vaccine, which he says is close to being completed by companies such as Johnson & Johnson, Moderna, Pfizer and others. The candidates, remaining respectful of each other's speaking time, went back and forth on the state of the virus in the country, which Trump, as he has throughout his recent campaign rallies, says is "rounding the corner."Trump said the country is learning how to live with it and that "we have to recover. We can't close up our nation."Biden responded by saying the U.S. is not learning to live with it: "We're dying with it."Trump reiterated his desire to get schools around the country to reopen because, he says, the rate of transmission to teachers is low. "We're not going to have a country," Trump said. "This is a massive country with a massive economy. People are losing their jobs, committing suicide."Biden said he would develop national guidelines to assist in the safe reopening of schools and businesses."We ought to be able to walk and chew gum at the same time," Biden said.Original StoryAfter meeting last month in perhaps the most chaotic debate in modern history, President Donald Trump and his Democratic rival, Joe Biden, took the stage Thursday to give it another go.The bar to improve upon their last prime-time meeting is low: Their first debate was punctuated by frequent interruptions, mostly from Trump, leaving the two men talking over each other and Biden eventually telling the president to "shut up." A planned second debate didn't happen after the Republican president was diagnosed with the coronavirus and refused to participate in a virtual format. Biden and Trump instead participated in dueling town halls on competing television networks.Thursday's debate marks the candidates' second and final face-to-face meeting, with Election Day less than two weeks away. The night will be divided into six 15-minute segments, each on a topic selected by moderator Kristen Welker of NBC News: "Fighting COVID-19," "American Families," "Race in America," "Climate Change," "National Security" and "Leadership."Trump and Biden will each have his microphone cut off while his rival delivers an opening two-minute answer to each of the six debate topics, the commission announced. The mute button won't figure into the open discussion portion of the debate.Follow along below for updates from the debate (all times eastern:)
Watch the debate live in the video player above
10:30 p.m. ET
In talking about race, President Donald Trump said no one has done more for the Black community than he has — with the exception, "possible exception," of President Abraham Lincoln.
Trump later switched his remarks, saying not since Lincoln has anybody done what he's done, citing his efforts in criminal justice, prison reform and long-term funding for Historically Black Colleges and Universities.
Attacking one another's record and defending their own, candidates discussed issues ranging from Black Lives Matter to criminal justice reform.
Trump questioned why the Obama administration did not do more to pass criminal justice reform.
Former Vice President Joe Biden cited the administration's ties to the release of 38,000 federal prisons and clemency to over 1,000 people.
Biden also stressed that no one should be going to jail if they have a drug problem, suggesting a fundamental overhaul of the criminal justice system.
Trump continued to question why Biden didn't carry out plans for change during his eight years as vice president.

10:10 p.m. ET
The third topic transitioned to health care and the economy and how they impact American families.
As Senate Judiciary Committee Republicans advanced Amy Coney Barrett's Supreme Court nomination Thursday, Welker questioned Trump on what his plan would be if the Affordable Care Act gets overturned when the Supreme Court hears the case in November.
Trump touted the elimination of the ACA's individual mandate during his administration and vowed that those with preexisting conditions would be covered under a plan that would take over for the ACA.
Biden said his health care plan would allow for a public option and that he supports private insurance, something he said made him different than his Democratic challengers.
Trump said Biden is pushing for "socialized medicine" and that his running mate, Sen. Kamala Harris, is helping push for it.
Welker then pivoted to jobless and poverty rates amid the pandemic. Trump said a relief bill has been stuck in the negotiation process because House Speaker Nancy Pelosi doesn't want a deal.
Biden said Democrats have tried to pass it but Republicans are saying they would not have the votes.
The debate turned to immigration policies for both candidates.
Welker asked Trump if the administration had a plan to find the parents of more than 500 kids who were separated from their parents at the border. Trump said the kids came over through coyotes, cartels and gangs.
But, he said, people being held at the border were being taken care of "very well."
Biden countered and said the kids separated at the border came with parents.
Welker questioned Biden on the Obama administration's failure to pass immigration reform.
Biden conceded they got it wrong. He said he will send a pathway to citizenship for 11 million undocumented people within his first 100 days in office.
Trump mentioned Biden had eight years as vice president to make changes and that his own administration has made changes over the past four years.
Trump and Biden went back and forth on the catch-and-release policy and what the purpose of it was under the Obama administration. Trump eliminated it.
10:00 p.m. ET
Both candidates pointed to their opponents' finances in talking about foreign threats.
President Donald Trump claimed the Biden family received $3.5 million from the wife of a Moscow mayor.
Former Vice President Joe Biden responded that he hasn't ever received a single penny from another nation.
In a back-and-forth of who was profiting in foreign countries, Trump said Biden makes money from China, Ukraine or Russia. Biden claimed Trump was profiting from several foreign countries.
Moderator Kristen Welker also asked about a recent report regarding a Trump bank account in China.
Trump said he opened the account in 2013 and believed it was closed in 2015. He said he closed it before he even ran for president.
The debate also moved into discussing North Korea, leading Trump to say we're not in a war and they have a good relationship.
Biden questioned that the U.S. must have had a good relationship with Adolf Hitler before he invaded the rest of Europe, adding "Come on."
Trump said the previous administration left him a mess and put the U.S. in a dangerous position.
9:30 p.m. ET
The debate began with the coronavirus pandemic on a day where the death tolls from the virus topped 222,000.
Debate moderator Kristen Welker asked the candidates to be specific and describe how they would lead the country through the next stage of the pandemic.
During his two-minute response — in which he harkened back to past models that estimated 2.2 million Americans could die from from COVID-19 and discussed his own diagnosis and recovery — Trump broke some news, saying a vaccine could be available in the U.S. and announced in a few weeks.
After Biden retorted, saying he would institute national masking and reopening guidelines, Welker went back to Trump's vaccine claim. Trump said he has the military prepared to distribute potentially 100 million vials of a vaccine, which he says is close to being completed by companies such as Johnson & Johnson, Moderna, Pfizer and others.
The candidates, remaining respectful of each other's speaking time, went back and forth on the state of the virus in the country, which Trump, as he has throughout his recent campaign rallies, says is "rounding the corner."
Trump said the country is learning how to live with it and that "we have to recover. We can't close up our nation."
Biden responded by saying the U.S. is not learning to live with it: "We're dying with it."
Trump reiterated his desire to get schools around the country to reopen because, he says, the rate of transmission to teachers is low.
"We're not going to have a country," Trump said. "This is a massive country with a massive economy. People are losing their jobs, committing suicide."
Biden said he would develop national guidelines to assist in the safe reopening of schools and businesses.
"We ought to be able to walk and chew gum at the same time," Biden said.

Original Story
After meeting last month in perhaps the most chaotic debate in modern history, President Donald Trump and his Democratic rival, Joe Biden, took the stage Thursday to give it another go.
The bar to improve upon their last prime-time meeting is low: Their first debate was punctuated by frequent interruptions, mostly from Trump, leaving the two men talking over each other and Biden eventually telling the president to "shut up." A planned second debate didn't happen after the Republican president was diagnosed with the coronavirus and refused to participate in a virtual format. Biden and Trump instead participated in dueling town halls on competing television networks.
Thursday's debate marks the candidates' second and final face-to-face meeting, with Election Day less than two weeks away.
The night will be divided into six 15-minute segments, each on a topic selected by moderator Kristen Welker of NBC News: "Fighting COVID-19," "American Families," "Race in America," "Climate Change," "National Security" and "Leadership."
Trump and Biden will each have his microphone cut off while his rival delivers an opening two-minute answer to each of the six debate topics, the commission announced. The mute button won't figure into the open discussion portion of the debate.
Follow along below for updates from the debate (all times eastern:)