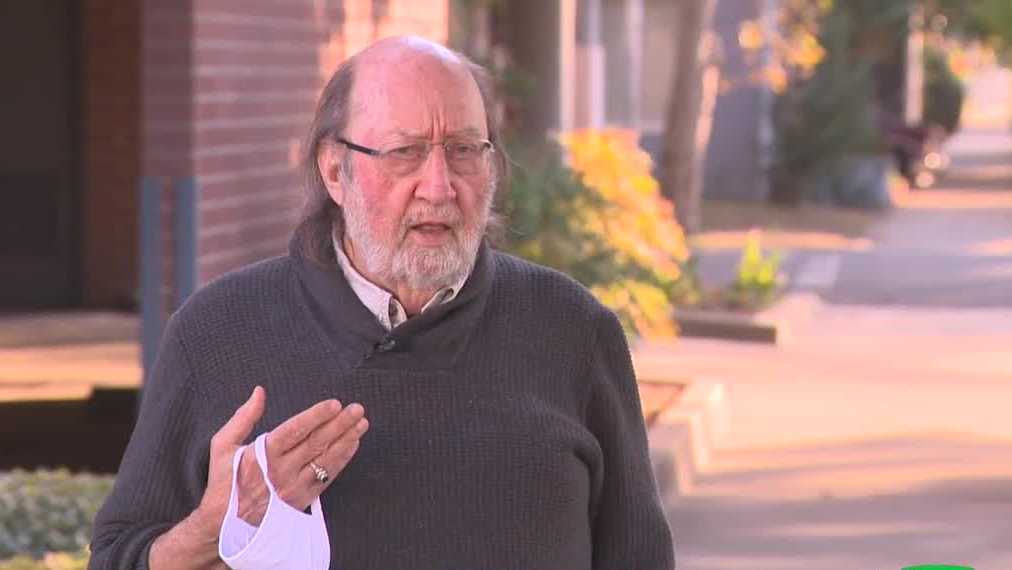 In most cases, the voting process has been going smoothly. But a Pennsylvania man who's been working in Sacramento for the past year has a voting nightmare to tell. John Wilson was only supposed to be working in Sacramento until July, but the coronavirus pandemic pushed a lot of his deadlines back. So, knowing he might not make it home in time for the November election, he requested a mail-in ballot on Aug. 22. "I got a notice right away that my ballot request had been accepted," Wilson said. But by the middle of September, the ballot still hadn't arrived. "So, I began to call, and they explained that there had been suits filed in Pennsylvania to delay the printing of the ballots because they were contesting whose names should be on the ballot," Wilson said. He finally received his ballot in the mail and dropped it back off at the post office on Oct. 13. "I really wanted to be certain it got there, so I sent it certified," Wilson said. He tracked his ballot every day, and received the same information saying his ballot would arrive on Oct. 19. But by Oct. 23, his ballot still hadn't shown up. After calling numerous dead-end phone numbers in the Pittsburgh area, he finally got in touch with someone. "She couldn't help me. She said, 'All I can tell you is you'll have to file an online complaint,'" Wilson said. So, that's what he did. Then on Tuesday, he received a letter in the mail from his county elections office. "It was a notice that said that my ballot had been received the day before, but they couldn't process it because there's a minor discrepancy in the address," Wilson said. The letter went on to say if he showed up in person on Election Day before 8 p.m. with his ID, the office could process his ballot. So now, Wilson is booked on a Sunday flight to Pennsylvania. He's allowing Monday as a buffer in case any of his flights are delayed. Wilson said he's concerned about traveling during the pandemic but won't let it stop him from making sure his vote is counted. He's spending $890 for his flight and rental car back to Pittsburgh.Wilson said people in many other countries don't have the right to vote for their leaders, so we should do everything in our power to take advantage of that right. "I want my voice to be heard," he said, "and I want it to count."
SACRAMENTO, Calif. —
In most cases, the voting process has been going smoothly. But a Pennsylvania man who's been working in Sacramento for the past year has a voting nightmare to tell.
John Wilson was only supposed to be working in Sacramento until July, but the coronavirus pandemic pushed a lot of his deadlines back. So, knowing he might not make it home in time for the November election, he requested a mail-in ballot on Aug. 22.
"I got a notice right away that my ballot request had been accepted," Wilson said.
But by the middle of September, the ballot still hadn't arrived.
"So, I began to call, and they explained that there had been suits filed in Pennsylvania to delay the printing of the ballots because they were contesting whose names should be on the ballot," Wilson said.
He finally received his ballot in the mail and dropped it back off at the post office on Oct. 13.
"I really wanted to be certain it got there, so I sent it certified," Wilson said.
He tracked his ballot every day, and received the same information saying his ballot would arrive on Oct. 19. But by Oct. 23, his ballot still hadn't shown up.
After calling numerous dead-end phone numbers in the Pittsburgh area, he finally got in touch with someone.
"She couldn't help me. She said, 'All I can tell you is you'll have to file an online complaint,'" Wilson said.
So, that's what he did.
Then on Tuesday, he received a letter in the mail from his county elections office.
"It was a notice that said that my ballot had been received the day before, but they couldn't process it because there's a minor discrepancy in the address," Wilson said.
The letter went on to say if he showed up in person on Election Day before 8 p.m. with his ID, the office could process his ballot.
So now, Wilson is booked on a Sunday flight to Pennsylvania. He's allowing Monday as a buffer in case any of his flights are delayed.
Wilson said he's concerned about traveling during the pandemic but won't let it stop him from making sure his vote is counted.
He's spending $890 for his flight and rental car back to Pittsburgh.
Wilson said people in many other countries don't have the right to vote for their leaders, so we should do everything in our power to take advantage of that right.
"I want my voice to be heard," he said, "and I want it to count."