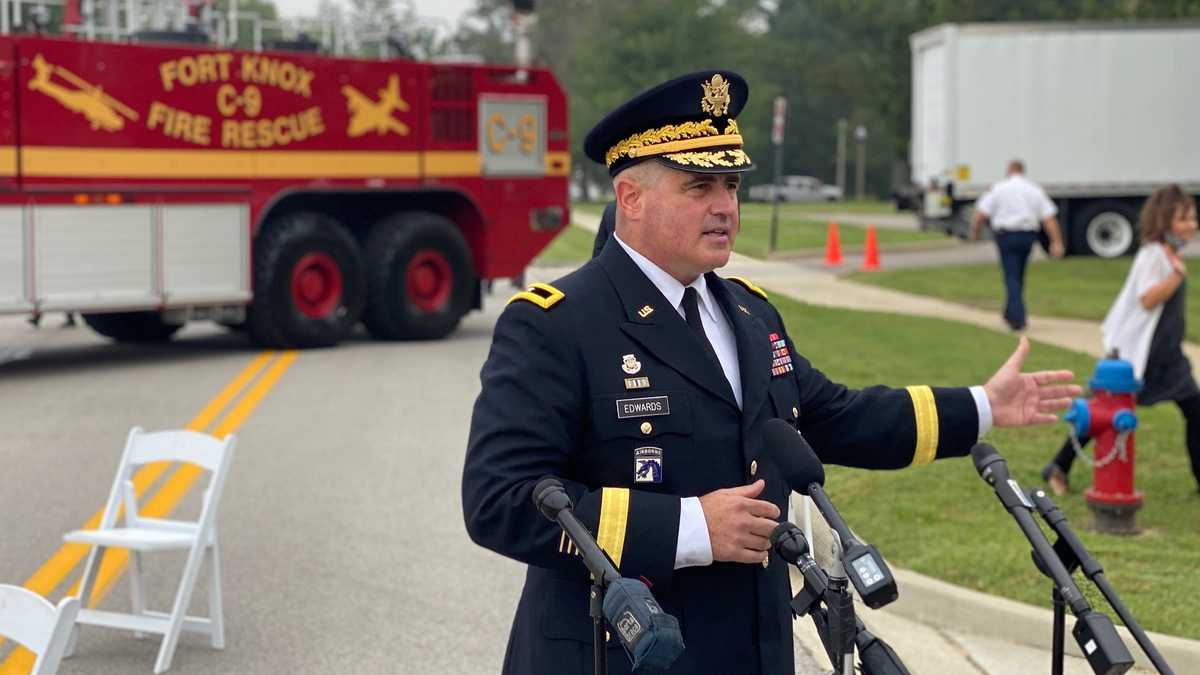 A military officer, who survived the Sept. 11 terrorist attack at the Pentagon, shared his memories of that day at a 9/11 ceremony held at Fort Knox Friday morning."You could hear the muffled screams and chaos out in the hallway," Brig. Gen. Thomas J. Edwards recounted.Edwards said he was in a meeting when terrorists hijacked Flight 77 and crashed it into the Pentagon.Three other planes were also hijacked by terrorists.During his speech, Edwards recalled feeling an explosion-like impact. He also said he saw glass shattering and heard screams from the hallway."We got to the front and you realize it's (the damage) pretty significant," Edwards said, recalling the difficult evacuation. "Later you realize 125 people in the building died. You realize 53 airline passengers died. All six crew members were killed."He also said that 29 military members were killed, 13 of which he describes as "really close friends."The ceremony included the striking of the four fives, a custom among firefighters to remember men and women killed in the line of duty. Leaders at Fort Knox also completed a wreath laying tradition.Major John Evans, commander of the U.S. Army cadets at Fort Knox, stresses the importance of teaching cadets about the attacks of 9/11, as many of his cadets were not born when the attacks took place."We really try to impress upon them what a world-changing event that was for all of us and the fact that we have to remember it," Evans said. "We can't forget the lessons that got us there or we may be doomed to repeat them."Edwards said it is a day that he is still healing from "psychologically," though he believes ceremonies like the one held Friday help with the healing process."It wasn't just a loss of life, it was an attack on our way of life," Edwards said.He referenced the ongoing pandemic and natural disasters of 2020 during the opening remarks of his speech by saying, "We're in a pretty historic time today. I acknowledge that, but I also believe it's right to honor those we lost on 9/11."
FORT KNOX, Ky. —
A military officer, who survived the Sept. 11 terrorist attack at the Pentagon, shared his memories of that day at a 9/11 ceremony held at Fort Knox Friday morning.
"You could hear the muffled screams and chaos out in the hallway," Brig. Gen. Thomas J. Edwards recounted.
Edwards said he was in a meeting when terrorists hijacked Flight 77 and crashed it into the Pentagon.
Three other planes were also hijacked by terrorists.
During his speech, Edwards recalled feeling an explosion-like impact. He also said he saw glass shattering and heard screams from the hallway.
"We got to the front and you realize it's (the damage) pretty significant," Edwards said, recalling the difficult evacuation. "Later you realize 125 people in the building died. You realize 53 airline passengers died. All six crew members were killed."
He also said that 29 military members were killed, 13 of which he describes as "really close friends."
This content is imported from Twitter. You may be able to find the same content in another format, or you may be able to find more information, at their web site.
The ceremony included the striking of the four fives, a custom among firefighters to remember men and women killed in the line of duty.
Leaders at Fort Knox also completed a wreath laying tradition.
Major John Evans, commander of the U.S. Army cadets at Fort Knox, stresses the importance of teaching cadets about the attacks of 9/11, as many of his cadets were not born when the attacks took place.
"We really try to impress upon them what a world-changing event that was for all of us and the fact that we have to remember it," Evans said. "We can't forget the lessons that got us there or we may be doomed to repeat them."
Edwards said it is a day that he is still healing from "psychologically," though he believes ceremonies like the one held Friday help with the healing process.
"It wasn't just a loss of life, it was an attack on our way of life," Edwards said.
He referenced the ongoing pandemic and natural disasters of 2020 during the opening remarks of his speech by saying, "We're in a pretty historic time today. I acknowledge that, but I also believe it's right to honor those we lost on 9/11."