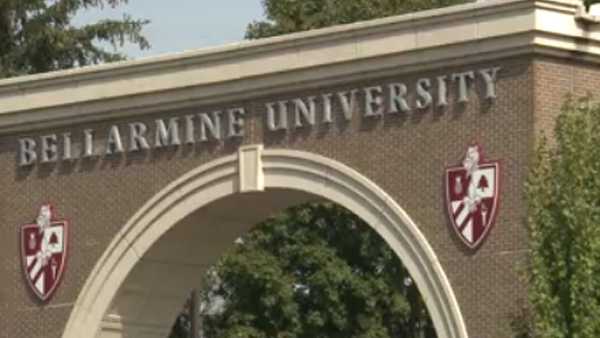 When asked how the Butterfly Project got started at Bellarmine University in Louisville, officials said they were looking for ways to give underrepresented groups exposure to the booming data analysis and technology industries."It seemed like gold," said Lilly Massa-McKinley, the assistant vice president for career development and strategic partnerships at Bellarmine.She's also the co-founder of the new program.The Butterfly Project connects seven students from Louisville Central High School Magnet Career Academy with 12 Bellarmine post-baccalaureate students.They'll pair up with local nonprofits and the teenage students will learn new ways to collect and use data and innovative technology as a way to show racial disparities in the five areas of housing, health, education, jobs and justice. Louisville Urban League officials identified those five areas of concern in its "Path Forward" recommendations."The students will have had an opportunity to see how harnessing the power of data can be used to further social justice efforts," said Alisia McClain, co-founder of this project and the director of community and education initiatives for Microsoft Future of Work, "and to be clear, we want to be really, really careful in saying that these kids are going to solve all of our problems. That is not in any way the goal, but to just see how data science can play into the solving of those problems and recognizing how complex these issues are."Microsoft Future of Work is a main partner in the collaboration.Butterfly Project officials said that often Black people are also underrepresented in the nonprofit sector. Programs like this one may change that."Underrepresented students are really called to programs that allow them to really get involved in their community and kind of merge their profession with their passion," Massa-McKinley said.Humana paid for data analysis courses for the high school students, McClain said. She added that some of the students had never worked with some of the software.Now, they'll have even more marketable experience ahead of college.There are also benefits for the college students, the co-founders explained. No computer science or analytics experience is needed to enroll in the program at Bellarmine.Massa-McKinley said it's a perfect transitional education for someone looking for a meaningful career change with endless opportunities."That may be one of the strongest candidates out there, somebody who has a fine arts background or liberal arts background, and then they add that techie skillset on top of it," she told WLKY's Marvis Herring. "All of the skillsets you develop in liberal arts: the critical thinking, and the problem solving, the ability to work in teams, strong communication skills, leadership, all of those things— and now you add a techie skill set. I mean, these people are going to help us improve our world in a lot of important ways."WLKY News reached out to the Louisville Urban League for the agency's comments about the new program.Dr. Kish Cumi Price, the league's director of education police and programming, shared this statement:"The Butterfly Project is a timely response to a community call to action from Louisville Urban League and signers of A Path Forward for Louisville. The beauty of this project is that it was founded and co-led, respectively, by two Black female data scientists, Alisia McClean, and Dr. Monica Unseld. Central High School and Bellarmine University students are able to explore community issues together with mentor partners. They are encouraged to dissect the data– attending to the numbers and the narratives while seeking community-inspired solutions."
LOUISVILLE, Ky. —
When asked how the Butterfly Project got started at Bellarmine University in Louisville, officials said they were looking for ways to give underrepresented groups exposure to the booming data analysis and technology industries.
"It seemed like gold," said Lilly Massa-McKinley, the assistant vice president for career development and strategic partnerships at Bellarmine.
She's also the co-founder of the new program.
The Butterfly Project connects seven students from Louisville Central High School Magnet Career Academy with 12 Bellarmine post-baccalaureate students.
They'll pair up with local nonprofits and the teenage students will learn new ways to collect and use data and innovative technology as a way to show racial disparities in the five areas of housing, health, education, jobs and justice. Louisville Urban League officials identified those five areas of concern in its "Path Forward" recommendations.
"The students will have had an opportunity to see how harnessing the power of data can be used to further social justice efforts," said Alisia McClain, co-founder of this project and the director of community and education initiatives for Microsoft Future of Work, "and to be clear, we want to be really, really careful in saying that these kids are going to solve all of our problems. That is not in any way the goal, but to just see how data science can play into the solving of those problems and recognizing how complex these issues are."
Microsoft Future of Work is a main partner in the collaboration.
Butterfly Project officials said that often Black people are also underrepresented in the nonprofit sector. Programs like this one may change that.
"Underrepresented students are really called to programs that allow them to really get involved in their community and kind of merge their profession with their passion," Massa-McKinley said.
Humana paid for data analysis courses for the high school students, McClain said. She added that some of the students had never worked with some of the software.
Now, they'll have even more marketable experience ahead of college.
There are also benefits for the college students, the co-founders explained. No computer science or analytics experience is needed to enroll in the program at Bellarmine.
Massa-McKinley said it's a perfect transitional education for someone looking for a meaningful career change with endless opportunities.
"That may be one of the strongest candidates out there, somebody who has a fine arts background or liberal arts background, and then they add that techie skillset on top of it," she told WLKY's Marvis Herring. "All of the skillsets you develop in liberal arts: the critical thinking, and the problem solving, the ability to work in teams, strong communication skills, leadership, all of those things— and now you add a techie skill set. I mean, these people are going to help us improve our world in a lot of important ways."
WLKY News reached out to the Louisville Urban League for the agency's comments about the new program.
Dr. Kish Cumi Price, the league's director of education police and programming, shared this statement:
"The Butterfly Project is a timely response to a community call to action from Louisville Urban League and signers of A Path Forward for Louisville. The beauty of this project is that it was founded and co-led, respectively, by two Black female data scientists, Alisia McClean, and Dr. Monica Unseld. Central High School and Bellarmine University students are able to explore community issues together with mentor partners. They are encouraged to dissect the data– attending to the numbers and the narratives while seeking community-inspired solutions."