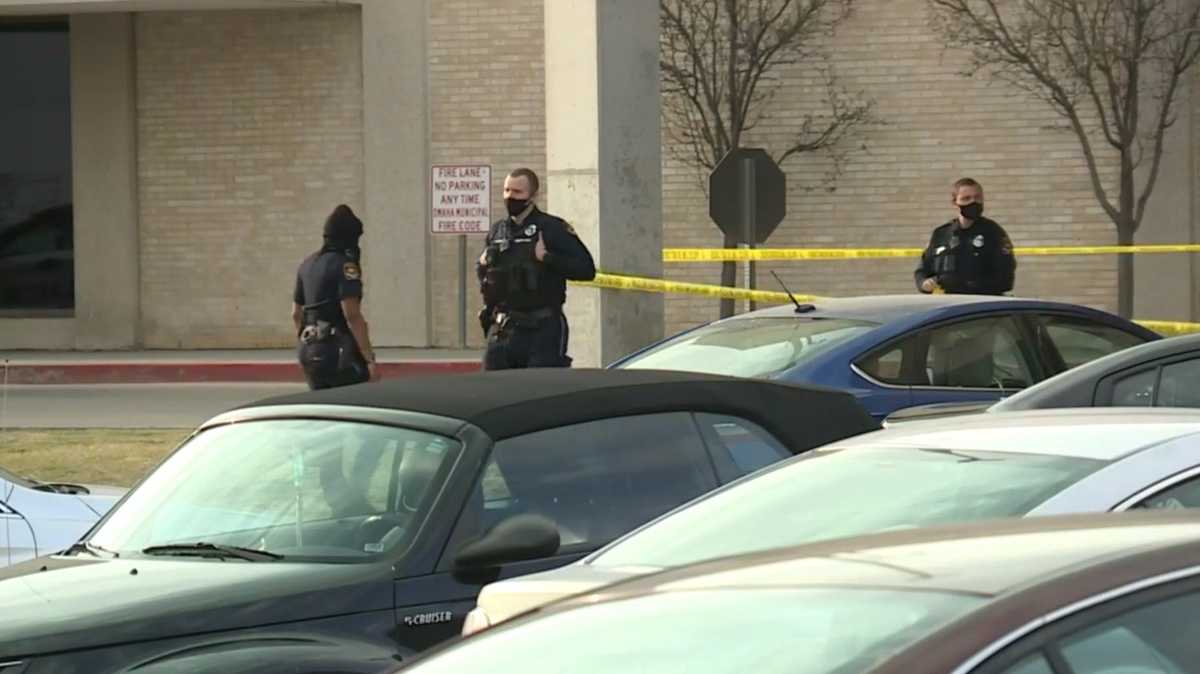 Omaha police say an officer responding to a shoplifting call was shot Friday afternoon at Westroads Mall in Omaha, Nebraska.According to Omaha Police Chief Todd Schmaderer, two officers responded to the JCPenney at Westroads Mall when a struggle happened and a shoplifting suspect shot an officer.First responders rushed the officer who was shot to Nebraska Medicine in critical condition.The incident happened around 4 p.m.Witnesses said the officer was shot in the head. Schmaderer did not confirm where the officer was shot but did say that multiple shots were fired.Omaha police said Friday night that their injured officer is stable and the suspect is in custody after a pursuit with Nebraska State Patrol. Lt. Sherie Thomas of Omaha police said the suspect was arrested following a high-speed chase.She said the pursuit began around 5:20 p.m. Thomas added that the suspect was taken into custody around 20 minutes later without any incident.A gun was found at the scene where the suspect was taken into custody, according to Thomas.Thomas explained that the officer who was injured in the shooting is alert and will need surgery.Witnesses told KETV it was a frightening situation."So then all of us were just kind of freaking out," Ashley Heisler said. "Our hands were shaking."Ashley Heisler and her older sister Kaitlyn Heisler were inside the mall when the shots were fired."We were inside of Claire's, and next thing, we're getting ready to leave, and next thing I know, we see a bunch of people getting pushed into the store," Kaitlyn Heisler said.They called their father, Dan Heisler, who rushed to the scene."My daughter called up and said there was a shooting, and they had to be taken into a store and then I freaked out at that point," Dan Heisler said. "Talked to mom and we called some friends and ended up coming here."Other witnesses like Austin Shellenberger were also inside when the crowd began to panic."Next thing you know, bottom floor is starting to run around, then we get pulled by two security guards rushing down the hall," Shellenberger said. "They pulled us into a foot locker where we had been positioned at the back of the shop."Shellenberger described the shooting as terrifying."Terrifying because you see two security guards and you see everyone else running around you, pulling people, and I mean literally pulling people into stores and you just shut down," Shellenberger said.Dan Heisler is just thankful his daughters are ok."It's scary," Dan Heisler said. "It's scary. Not something you want to be driving someplace for but it's scary. But they're okay, so, all good."
OMAHA, Neb. —
Omaha police say an officer responding to a shoplifting call was shot Friday afternoon at Westroads Mall in Omaha, Nebraska.
According to Omaha Police Chief Todd Schmaderer, two officers responded to the JCPenney at Westroads Mall when a struggle happened and a shoplifting suspect shot an officer.
First responders rushed the officer who was shot to Nebraska Medicine in critical condition.
The incident happened around 4 p.m.
Witnesses said the officer was shot in the head. Schmaderer did not confirm where the officer was shot but did say that multiple shots were fired.
Omaha police said Friday night that their injured officer is stable and the suspect is in custody after a pursuit with Nebraska State Patrol.
Lt. Sherie Thomas of Omaha police said the suspect was arrested following a high-speed chase.
She said the pursuit began around 5:20 p.m. Thomas added that the suspect was taken into custody around 20 minutes later without any incident.
A gun was found at the scene where the suspect was taken into custody, according to Thomas.
Thomas explained that the officer who was injured in the shooting is alert and will need surgery.
Witnesses told KETV it was a frightening situation.
"So then all of us were just kind of freaking out," Ashley Heisler said. "Our hands were shaking."
Ashley Heisler and her older sister Kaitlyn Heisler were inside the mall when the shots were fired.
"We were inside of Claire's, and next thing, we're getting ready to leave, and next thing I know, we see a bunch of people getting pushed into the store," Kaitlyn Heisler said.
They called their father, Dan Heisler, who rushed to the scene.
"My daughter called up and said there was a shooting, and they had to be taken into a store and then I freaked out at that point," Dan Heisler said. "Talked to mom and we called some friends and ended up coming here."
Other witnesses like Austin Shellenberger were also inside when the crowd began to panic.
"Next thing you know, bottom floor is starting to run around, then we get pulled by two security guards rushing down the hall," Shellenberger said. "They pulled us into a foot locker where we had been positioned at the back of the shop."
Shellenberger described the shooting as terrifying.
"Terrifying because you see two security guards and you see everyone else running around you, pulling people, and I mean literally pulling people into stores and you just shut down," Shellenberger said.
Dan Heisler is just thankful his daughters are ok.
"It's scary," Dan Heisler said. "It's scary. Not something you want to be driving someplace for but it's scary. But they're okay, so, all good."