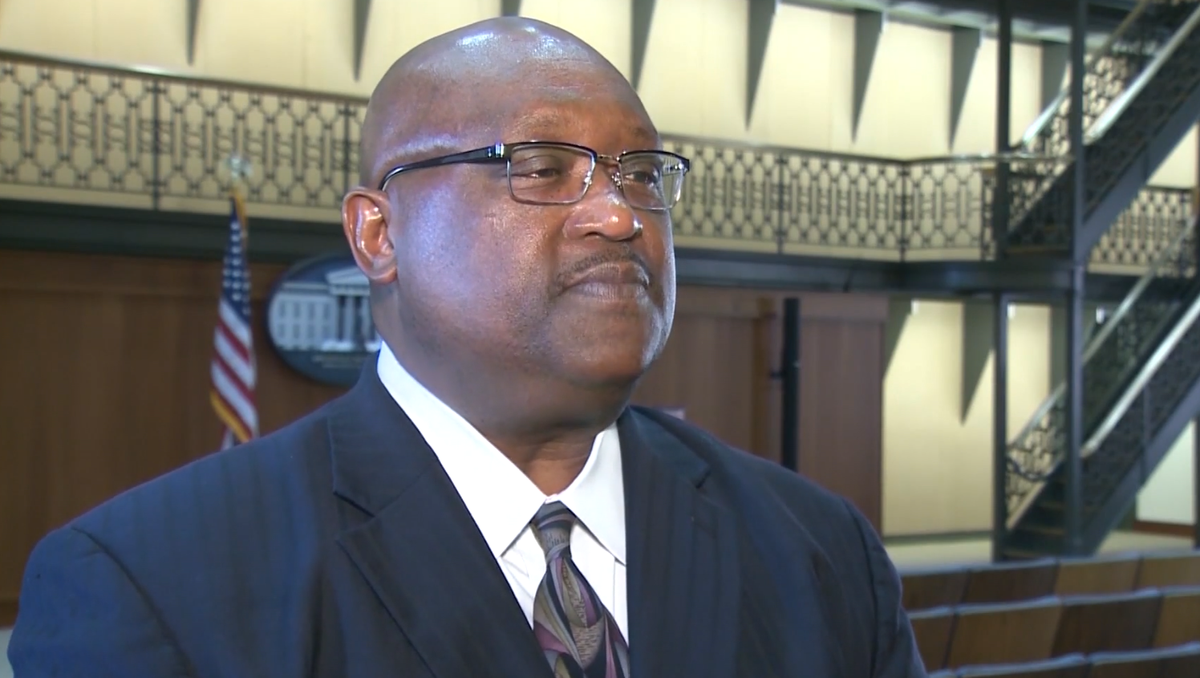 Members of the union representing workers at Louisville Metro Corrections overwhelmingly signaled they have lost confidence in the jail director with a vote cast Tuesday.The vote of no confidence came amid ongoing issues that have plagued the jail, among them severe staffing shortages and safety incidents. They are issues that have been going on for months, according to those behind the scenes.Louisville Corrections FOP members voted 216-6 that they have lost confidence in jail director Dwayne Clark and his administration's "ability to lead, manage and direct the activities of this agency."In the video player above: Former inmate describes 'horrible' conditions inside Metro Corrections"Within the last two years, director Clark has exhibited indifference to the well-being of the sworn employees of this agency," the FOP said in a statement.The statement went on to say:"He blatantly disregarded complaints from members of this lodge pertaining to the harassing atmosphere created by a member of his management team and has had multiple EEOC complaints filed against him."Among the complaints from the FOP, members accuse Clark of failing to recruit and retain staff, ignoring health and safety concerns and violating collective bargaining agreements.'480 inmates to 2 officers': Metro Corrections faces critical situation due to staffing shortageMetro Corrections officers also said ongoing COVID-19 restrictions are making conditions at the jail even more dangerous for everyone at the jail.Also last week, WLKY reported that Maj. Mike Ashby, an official at Metro Corrections, had been suspended pending a pre-termination hearing. That happened after Ashby sent out an unauthorized apology email to sworn staff."As senior management, I have failed you. For that I'm sorry," it said, in part.It went on to say, "This weekend (Sept. 17/18) all eyes will be on us. We control the narrative," and then Ashby asks, "Are you going to show the public that you take your oath seriously and they can trust you or are you going to sit this one out?"Ashy, on the day of his pre-termination hearing Monday, called on Clark to resign.(Click here to read the full statement from the FOP on the no confidence vote)Still, the assistant director of the jail stood firm by Clark ahead of the "no confidence" vote."Dwayne Clark has been a consummate corrections professional for over 40 years. He has spent the last year running our corrections facility through a global pandemic and the worst staffing shortage in recent history. He will continue to better LMDC every day and will weather this storm," Assistant Director Steve Durham said.In addition to the vote of "no confidence," the union also backed a "no" vote that staff and inmates are not in a safe environment at Metro Corrections. They also voted "no" that there is not enough staff to "manage the working environment and complete job tasks at the Louisville Metro Department of Corrections."In a separate vote, many of the Metro Corrections voted "yes" that they were actively seeking other employment options.'They're not safe': Louisville Corrections FOP warns of deteriorating conditions inside jailIn a report last week from WLKY, an inmate was sent to the hospital following an altercation with another inmate."We had an inmate manipulate his single cell door, open it himself, get out, and viciously assault another inmate who was on a scheduled hour out because the doors ain't working," said FOP spokesperson Tracy Dotson.Inmate Kyle McCormick is now facing assault charges for the incident.At last check, the jail is currently running with 126 staff vacancies and 1,640 inmates. That's almost 500 inmates overcapacity. To help deal with the staffing shortages, Mayor Greg Fischer approved offering double pay for overtime for the next 60 days but the FOP says that's just a band-aid solution.Ahead of Tuesday's vote of "no confidence," Mayor Greg Fischer expressed his support of Clark. The mayor's office said in a statement after the vote that the jail director and his team are "continue a laser focus on addressing a staffing challenge that is plaguing corrections facilities across the state and country."Here's the full statement from Fischer:"This vote is disappointing, short-sighted and insulting to a dedicated and celebrated veteran of the Corrections field."After some four decades of service, Director Clark came out of retirement two years ago specifically to focus on the well-being of Metro Corrections officers and the compassionate care of inmates. He's led Corrections through the challenges of COVID-19 and the 2020 protests – and he and his team continue a laser focus on addressing a staffing challenge that is plaguing Corrections facilities across the state and country."State prisons, for example, have gone from a 20% to a 50% vacancy rate since 2020, while jails and prisons from New York to Nebraska are struggling with devastating staffing levels. In the face of all that, Director Clark and his team – in partnership with the very union that is criticizing him today – have come up with innovative solutions to address the challenges, including paying double time for those having to work overtime, and three separate pilot projects designed to boost retention and recruitment."Despite this vote, the Mayor has confidence that Director Clark will continue working toward creative solutions to a national challenge and encourages the FOP to drop the war of words and work as a team with management to solve challenges far bigger than any one person."
LOUISVILLE, Ky. —
Members of the union representing workers at Louisville Metro Corrections overwhelmingly signaled they have lost confidence in the jail director with a vote cast Tuesday.
The vote of no confidence came amid ongoing issues that have plagued the jail, among them severe staffing shortages and safety incidents. They are issues that have been going on for months, according to those behind the scenes.
Louisville Corrections FOP members voted 216-6 that they have lost confidence in jail director Dwayne Clark and his administration's "ability to lead, manage and direct the activities of this agency."
In the video player above: Former inmate describes 'horrible' conditions inside Metro Corrections
"Within the last two years, director Clark has exhibited indifference to the well-being of the sworn employees of this agency," the FOP said in a statement.
The statement went on to say:
"He blatantly disregarded complaints from members of this lodge pertaining to the harassing atmosphere created by a member of his management team and has had multiple EEOC complaints filed against him."
Among the complaints from the FOP, members accuse Clark of failing to recruit and retain staff, ignoring health and safety concerns and violating collective bargaining agreements.
'480 inmates to 2 officers': Metro Corrections faces critical situation due to staffing shortage
Metro Corrections officers also said ongoing COVID-19 restrictions are making conditions at the jail even more dangerous for everyone at the jail.
Also last week, WLKY reported that Maj. Mike Ashby, an official at Metro Corrections, had been suspended pending a pre-termination hearing. That happened after Ashby sent out an unauthorized apology email to sworn staff.
"As senior management, I have failed you. For that I'm sorry," it said, in part.
It went on to say, "This weekend (Sept. 17/18) all eyes will be on us. We control the narrative," and then Ashby asks, "Are you going to show the public that you take your oath seriously and they can trust you or are you going to sit this one out?"
Ashy, on the day of his pre-termination hearing Monday, called on Clark to resign.
(Click here to read the full statement from the FOP on the no confidence vote)
Still, the assistant director of the jail stood firm by Clark ahead of the "no confidence" vote.
"Dwayne Clark has been a consummate corrections professional for over 40 years. He has spent the last year running our corrections facility through a global pandemic and the worst staffing shortage in recent history. He will continue to better LMDC every day and will weather this storm," Assistant Director Steve Durham said.
In addition to the vote of "no confidence," the union also backed a "no" vote that staff and inmates are not in a safe environment at Metro Corrections. They also voted "no" that there is not enough staff to "manage the working environment and complete job tasks at the Louisville Metro Department of Corrections."
In a separate vote, many of the Metro Corrections voted "yes" that they were actively seeking other employment options.
'They're not safe': Louisville Corrections FOP warns of deteriorating conditions inside jail
In a report last week from WLKY, an inmate was sent to the hospital following an altercation with another inmate.
"We had an inmate manipulate his single cell door, open it himself, get out, and viciously assault another inmate who was on a scheduled hour out because the doors ain't working," said FOP spokesperson Tracy Dotson.
Inmate Kyle McCormick is now facing assault charges for the incident.
At last check, the jail is currently running with 126 staff vacancies and 1,640 inmates. That's almost 500 inmates overcapacity. To help deal with the staffing shortages, Mayor Greg Fischer approved offering double pay for overtime for the next 60 days but the FOP says that's just a band-aid solution.
Ahead of Tuesday's vote of "no confidence," Mayor Greg Fischer expressed his support of Clark. The mayor's office said in a statement after the vote that the jail director and his team are "continue a laser focus on addressing a staffing challenge that is plaguing corrections facilities across the state and country."
Here's the full statement from Fischer:
"This vote is disappointing, short-sighted and insulting to a dedicated and celebrated veteran of the Corrections field.
"After some four decades of service, Director Clark came out of retirement two years ago specifically to focus on the well-being of Metro Corrections officers and the compassionate care of inmates. He's led Corrections through the challenges of COVID-19 and the 2020 protests – and he and his team continue a laser focus on addressing a staffing challenge that is plaguing Corrections facilities across the state and country.
"State prisons, for example, have gone from a 20% to a 50% vacancy rate since 2020, while jails and prisons from New York to Nebraska are struggling with devastating staffing levels. In the face of all that, Director Clark and his team – in partnership with the very union that is criticizing him today – have come up with innovative solutions to address the challenges, including paying double time for those having to work overtime, and three separate pilot projects designed to boost retention and recruitment.
"Despite this vote, the Mayor has confidence that Director Clark will continue working toward creative solutions to a national challenge and encourages the FOP to drop the war of words and work as a team with management to solve challenges far bigger than any one person."