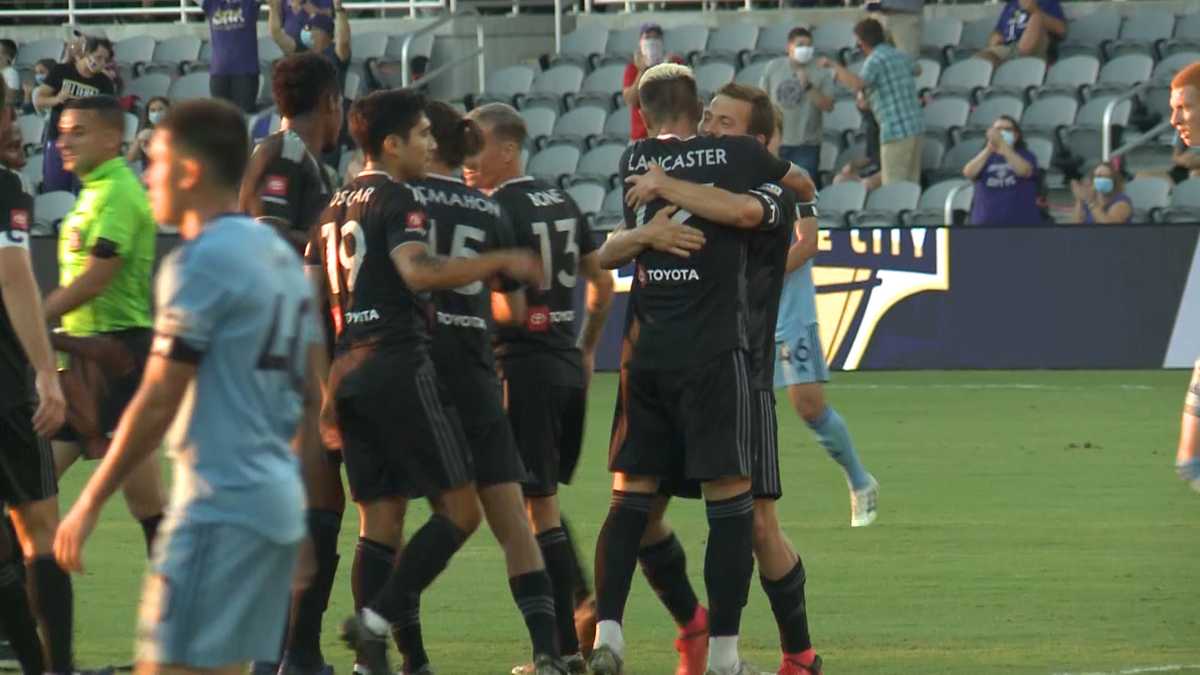 Louisville City FC is getting ready for the 2020 USL Championship postseason."Our objective is to earn that third star over our crest," said LouCity FC head coach John Hackworth.The Boys in Purple begin their postseason quest for that third star when it hosts Pittsburgh Riverhounds SC Saturday at 7:30 p.m. inside Lynn Family Stadium in the first round of the Eastern Conference playoffs. "You gotta beat everybody to be the champion and we're going to catch one of the best teams in the first round," said Hackworth.The matchup will also give LouCity FC a chance for revenge, as Pittsburgh beat LCFC 3-1 back in July, during the club's Lynn Family Stadium debut."We made some mistakes in that Pittsburgh game that really hurt us," said Hackworth. "And while we didn't change wholeheartedly, what we did was is we learned from it."LouCity FC is red hot heading into this weekend's meeting versus Pittsburgh. The Boys in Purple are unbeaten in their last 11 matches. In fact, their last loss was on July 29, when they fell 2-1 to Sporting KC II."I think we played and started and felt like, when we came back in July, we were going to be the best team in the league," said Hackworth. "It didn't look like that in the results early on, which is even more impressive that our resolve was so strong and our belief is what it is that we played our way back into it."
LOUISVILLE, Ky. —
Louisville City FC is getting ready for the 2020 USL Championship postseason.
"Our objective is to earn that third star over our crest," said LouCity FC head coach John Hackworth.
The Boys in Purple begin their postseason quest for that third star when it hosts Pittsburgh Riverhounds SC Saturday at 7:30 p.m. inside Lynn Family Stadium in the first round of the Eastern Conference playoffs.
"You gotta beat everybody to be the champion and we're going to catch one of the best teams in the first round," said Hackworth.
The matchup will also give LouCity FC a chance for revenge, as Pittsburgh beat LCFC 3-1 back in July, during the club's Lynn Family Stadium debut.
"We made some mistakes in that Pittsburgh game that really hurt us," said Hackworth. "And while we didn't change wholeheartedly, what we did was is we learned from it."
LouCity FC is red hot heading into this weekend's meeting versus Pittsburgh. The Boys in Purple are unbeaten in their last 11 matches. In fact, their last loss was on July 29, when they fell 2-1 to Sporting KC II.
"I think we played and started and felt like, when we came back in July, we were going to be the best team in the league," said Hackworth. "It didn't look like that in the results early on, which is even more impressive that our resolve was so strong and our belief is what it is that we played our way back into it."