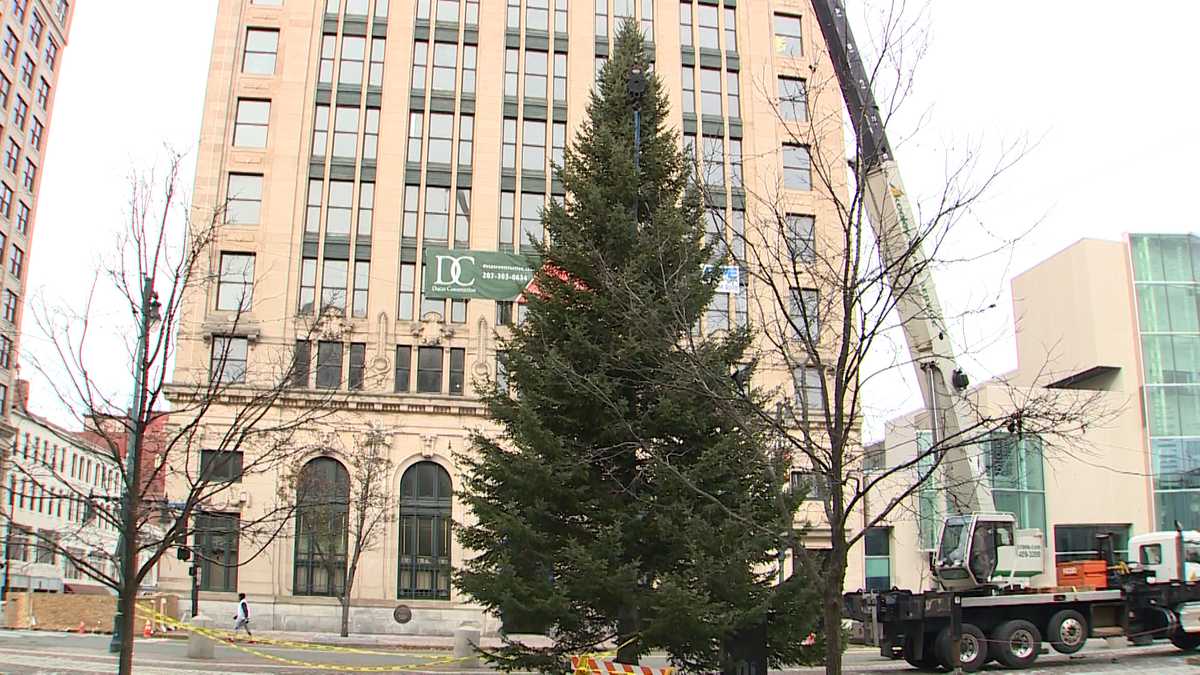 The holidays arrived in Portland on Thursday as the city's Christmas tree was placed in Monument Square.For one family, the selection of this year's tree was destiny more than three decades in the making.Nancy Arey Cohen watched as the tree her mother planted more than 30 years ago was cut down at the home where she grew up."She planted them all over the yard," Cohen said.It was her mother Edith Arey's wish that one day one of her trees would be place in Monument Square for the holidays for all of Portland to see."Thirteen years ago, when my dad passed away, she wanted to donate one of the trees because his office was right here, and she thought it would be a tribute to him, but they couldn't take it," Cohen said.After a windstorm in early November, city cleanup crews spotted the tree and asked homeowner Hilary Carr Shorey if she would donate it as the city's Christmas tree. She said yes."I had no idea how big it was and how close it was to the house – so I think the city is doing me a little bit of a favor, too," Shorey said.Shorey and Cohen were in Monument Square on Thursday morning as the tree was put into place.Cohen was thinking about her mother who died earlier this year."She passed away June 4, just five days before her 95th birthday, and then I found this out and it's like my own Christmas miracle," Cohen said. "I feel like I'm here with both my parents at Christmastime – it's my mom's tree right in front of my dad's office and the city couldn't have made me happier."The city gave Cohen a couple of branches from the tree. She plans to place them on her mother's grave in hopes that she knows her tree finally made it to Monument Square."Just a couple of weeks before she passed away, she said, 'If only one of my trees had been at Monument Square, it could have made so many people happy.' And now it is," Cohen said. "I hope it brings some cheer, some happiness, some hope to people who see it."
PORTLAND, Maine —
The holidays arrived in Portland on Thursday as the city's Christmas tree was placed in Monument Square.
For one family, the selection of this year's tree was destiny more than three decades in the making.
Nancy Arey Cohen watched as the tree her mother planted more than 30 years ago was cut down at the home where she grew up.
"She planted them all over the yard," Cohen said.
It was her mother Edith Arey's wish that one day one of her trees would be place in Monument Square for the holidays for all of Portland to see.
"Thirteen years ago, when my dad passed away, she wanted to donate one of the trees because his office was right here, and she thought it would be a tribute to him, but they couldn't take it," Cohen said.
After a windstorm in early November, city cleanup crews spotted the tree and asked homeowner Hilary Carr Shorey if she would donate it as the city's Christmas tree. She said yes.
"I had no idea how big it was and how close it was to the house – so I think the city is doing me a little bit of a favor, too," Shorey said.
Shorey and Cohen were in Monument Square on Thursday morning as the tree was put into place.
Cohen was thinking about her mother who died earlier this year.
"She passed away June 4, just five days before her 95th birthday, and then I found this out and it's like my own Christmas miracle," Cohen said. "I feel like I'm here with both my parents at Christmastime – it's my mom's tree right in front of my dad's office and the city couldn't have made me happier."
The city gave Cohen a couple of branches from the tree. She plans to place them on her mother's grave in hopes that she knows her tree finally made it to Monument Square.
"Just a couple of weeks before she passed away, she said, 'If only one of my trees had been at Monument Square, it could have made so many people happy.' And now it is," Cohen said. "I hope it brings some cheer, some happiness, some hope to people who see it."