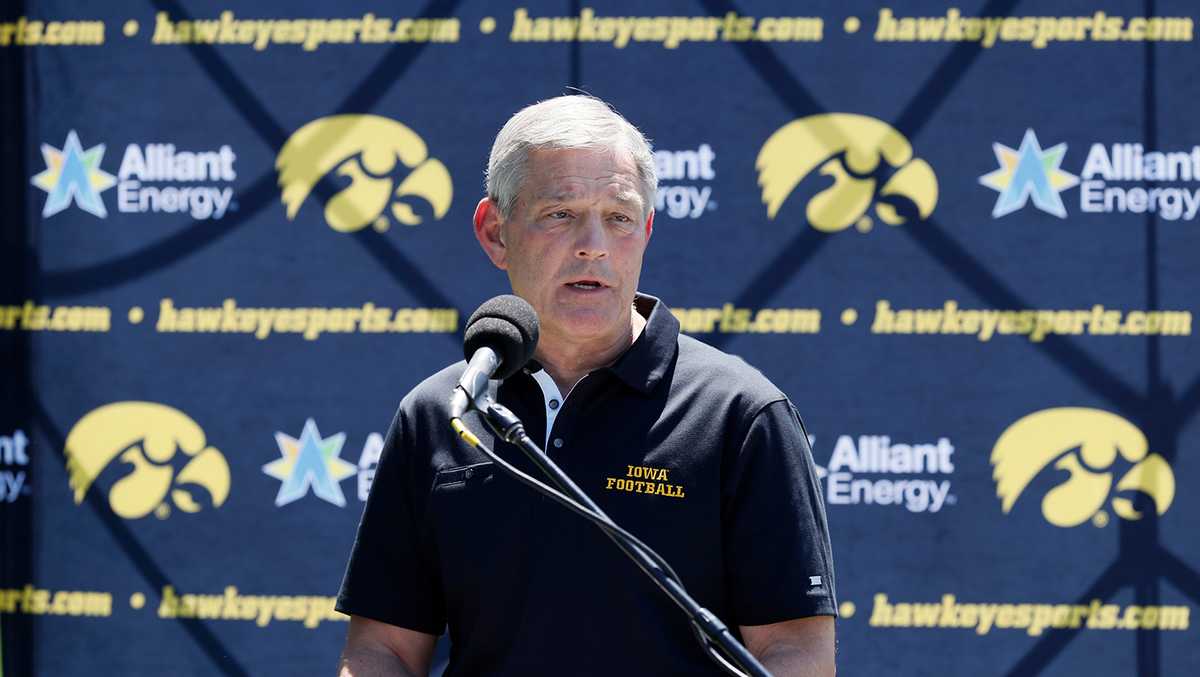 Multiple former University of Iowa athletes have requested $20 million from the university, athletic director Gary Barta, head football coach Kirk Ferentz and offensive coordinator Brian Ferentz.The athletes say were racially discriminated against by administration and coaching staff, according to an Oct. 5 letter set to the University of Iowa by the athletes' representative Damario Solomon-Simmons. The athletes include Akrum Wadley, Aaron Mends, Jonathan Parker, Marcel Joly, Maurice Fleming, Reggie Spearman, Kevonte Martin-Manley and Andre Harris. "Through the program's pervasive harassments, bullying, policies causing disparate impact and race-based threats and retaliation, our clients were deprived of a meaningful opportunity to pursue a high-quality education while competing at the highest level of collegiate athletics," Solomon-Simmons wrote in the letter. The letter states that coaches made comments to the athletes such as "only a dumbass Black player would do it like that," "this (n-word), this (n-word), this (n-word)," and "go back to the ghetto."The letter acknowledges a tweet in June by James Daniel, a former Hawkeye football player and current NFL player. The tweet came amid protests across the country after the death of George Floyd, a Black man who was killed while taken into custody by Minneapolis police. The tweet said: "(T)here are too many racial disparities in the Iowa football program. Black players have been treated unfairly for far too long." Dozens of other former Hawkeye athletes took to social media to explain their experience of racial discrimination while in the program. "In response to the numerous statements by former Hawkeyes, K. Ferentz publicly admitted he had a 'blind spot' when referring to the racial disparity and bullying in the program, for which he has been responsible for over 20 years," the letter stated. "In reply to a recent investigation sanctioned by Iowa and conducted by the law firm Husch Blackwell, LLP, Coach K. Ferentz admitted he 'dropped the ball' by failing to make necessary and effective changes described it the report prepared by Husch Blackwell, LLP." The letter went on to say, "Under the watchful eye of K. Ferentz, Iowa football coaching staff utilized racially discriminatory and punitive means to force African-American athletes into strict compliance with the Program's racist philosophy that effectively stripped away from them every cultural aspect of being an African American. The daily grind of enduring negative treatment, comments and threats made it virtually impossible for African-American athletes to focus on their education and, thus, African American athletes were denied the benefits of a high-quality education and subjected to continuous discrimination at Iowa based on their race. Numerous African-American football athletes fled Iowa and transferred to other institutions of higher learning where many ultimately graduated. However, if they remained at Iowa, they were unfairly demeaned, humiliated and dehumanized."Solomon-Simmons also mentioned former head strength and conditioning football coach Christopher Doyle. Doyle was mentioned during the social media confessions of other athletes and was on paid leave staring June 6, while the University of Iowa investigated. Doyle denied any wrong doing at the time. On June 15, Doyle reached a separation agreement with the football program, which required him to leave the department immediately but allowed him to receive 15 months of salary that totaled $1,112,499. Solomon-Simmons' letter goes on to explain how Kirk Ferentz had a hand in the racial dissemination when he hired his son, Brian Ferentz, as the offensive line coach in 2012. The letter claims that, "through his time at Iowa, B. Ferentz has discriminated and harassed African-American football athletes daily, by referring to them as drug dealers and criminals simply for being African-American males." It also claims that the racial remarks were made in the presence of Kirk Ferentz, coaches and other teammates. "If African-American athletes chose not to turn the other cheek to discriminatory treatment, they were threatened with losing their scholarships and told they would have 'to go back to the ghetto,'" Solomon-Simmons wrote. The letter also states that coaching staff required Black athletes to "drink protein shakes and electrolyte drinks until they vomited," in order to make a specific weight. Solomon-Simmons said that Kirk Ferentz knew about the discriminations toward Black athletes prior to the events in June. It cites a phone call between one of the athletes, Jonathan Parker, and the head coach, in which Kirk Ferentz apologized to Parker for Brian Ferentz calling Parker a "dumbass Black player" in front of the team and coaches. The letter references a report done by the University of Iowa's Athletics Diversity Task Force in which Solomon-Simmons claims Barta and Kirk Ferentz knew about multiple discriminatory events had happened. The letter said that the report had been prepared in spring 2019 but wasn't available to the public until July 2020. The lawsuit is asking for $10 million for the "loss of earning capacity, loss of professional opportunity, defamation, pain and suffering, mental conditions, mental anguish, PTSD, humiliation and overall emotional distress that our clients have incurred."It goes on to request another $10 million to establish a fund for athletes, other than the current clients, to compensate them for discrimination. The lawsuit also asks for the removal of Kirk Ferentz and Brian Ferentz from the program, as well as Barta removed as athletic director. They want the tuition to be waived for all Black athletes who attended the university during Kirk Ferentz's employment and did not graduate with a degree. The letter requests a series of other actions be taken to support athletes of color moving forward. The University of Iowa responded to the letter on Sunday, Oct. 18 with the following remark, "The University of Iowa, Iowa Athletics Department and the football program have publicly addressed some of the concerns you raise in your letter. This summer, the university hired an outside firm to conduct an independent review of issues and allegations related to the climate within the football program. Moving forward, we are committed to ensuring that our student-athletes have the ability to be true to themselves and we will not tolerate a system that inhibits authenticity." The University's letter states that Broderick Binns was appointed the Executive Director of Diversity, Equity and Inclusions for the Athletics Department. The letter also said that Kirk Ferentz created a former student-athlete advisory committee that will help assist the program moving forward. "The Iowa Athletics Department has a robust degree completion program that provides former student-athletes who have exhausted their eligibility, with the opportunity to complete their primary undergraduate degree," the letter from the University states. "The Iowa Athletics Department annual provides mandated education for coaches and staff regarding diversity, equity and inclusion." The University declined the settlement demands stating, "We would welcome the opportunity to visit with your clients to determine their interests in participating in activities that assist in creating meaningful change within the Iowa football program, the Iowa Athletics Department and campus community. For those individuals who have not obtained their degree, we are more than willing to assist them in these efforts."University of Iowa President Bruce Harreld released the following statement: "We appreciate some former athletes sharing insights on their experience while at the University of Iowa. Many of their concerns have been reviewed and addressed. And to be clear, any student athlete that has left the university and did not obtain their degree is welcome to return and we are here to support them. There are several demands outlined in the letter and we are proud of the efforts made to date. We have a path forward that includes ideas and recommendations from many current and former students aimed at making the University of Iowa a more inclusive and better place to learn, grow and compete as an athlete. However, the university rejects the demands for money and personnel changes."
IOWA CITY, Iowa —
Multiple former University of Iowa athletes have requested $20 million from the university, athletic director Gary Barta, head football coach Kirk Ferentz and offensive coordinator Brian Ferentz.
The athletes say were racially discriminated against by administration and coaching staff, according to an Oct. 5 letter set to the University of Iowa by the athletes' representative Damario Solomon-Simmons.
The athletes include Akrum Wadley, Aaron Mends, Jonathan Parker, Marcel Joly, Maurice Fleming, Reggie Spearman, Kevonte Martin-Manley and Andre Harris.
"Through the program's pervasive harassments, bullying, policies causing disparate impact and race-based threats and retaliation, our clients were deprived of a meaningful opportunity to pursue a high-quality education while competing at the highest level of collegiate athletics," Solomon-Simmons wrote in the letter.
The letter states that coaches made comments to the athletes such as "only a dumbass Black player would do it like that," "this (n-word), this (n-word), this (n-word)," and "go back to the ghetto."
The letter acknowledges a tweet in June by James Daniel, a former Hawkeye football player and current NFL player. The tweet came amid protests across the country after the death of George Floyd, a Black man who was killed while taken into custody by Minneapolis police.
The tweet said: "(T)here are too many racial disparities in the Iowa football program. Black players have been treated unfairly for far too long." Dozens of other former Hawkeye athletes took to social media to explain their experience of racial discrimination while in the program.
"In response to the numerous statements by former Hawkeyes, K. Ferentz publicly admitted he had a 'blind spot' when referring to the racial disparity and bullying in the program, for which he has been responsible for over 20 years," the letter stated. "In reply to a recent investigation sanctioned by Iowa and conducted by the law firm Husch Blackwell, LLP, Coach K. Ferentz admitted he 'dropped the ball' by failing to make necessary and effective changes described it the report prepared by Husch Blackwell, LLP."
The letter went on to say, "Under the watchful eye of K. Ferentz, Iowa football coaching staff utilized racially discriminatory and punitive means to force African-American athletes into strict compliance with the Program's racist philosophy that effectively stripped away from them every cultural aspect of being an African American. The daily grind of enduring negative treatment, comments and threats made it virtually impossible for African-American athletes to focus on their education and, thus, African American athletes were denied the benefits of a high-quality education and subjected to continuous discrimination at Iowa based on their race. Numerous African-American football athletes fled Iowa and transferred to other institutions of higher learning where many ultimately graduated. However, if they remained at Iowa, they were unfairly demeaned, humiliated and dehumanized."
Solomon-Simmons also mentioned former head strength and conditioning football coach Christopher Doyle. Doyle was mentioned during the social media confessions of other athletes and was on paid leave staring June 6, while the University of Iowa investigated. Doyle denied any wrong doing at the time.
On June 15, Doyle reached a separation agreement with the football program, which required him to leave the department immediately but allowed him to receive 15 months of salary that totaled $1,112,499.
Solomon-Simmons' letter goes on to explain how Kirk Ferentz had a hand in the racial dissemination when he hired his son, Brian Ferentz, as the offensive line coach in 2012. The letter claims that, "through his time at Iowa, B. Ferentz has discriminated and harassed African-American football athletes daily, by referring to them as drug dealers and criminals simply for being African-American males."
It also claims that the racial remarks were made in the presence of Kirk Ferentz, coaches and other teammates.
"If African-American athletes chose not to turn the other cheek to discriminatory treatment, they were threatened with losing their scholarships and told they would have 'to go back to the ghetto,'" Solomon-Simmons wrote.
The letter also states that coaching staff required Black athletes to "drink protein shakes and electrolyte drinks until they vomited," in order to make a specific weight.
Solomon-Simmons said that Kirk Ferentz knew about the discriminations toward Black athletes prior to the events in June. It cites a phone call between one of the athletes, Jonathan Parker, and the head coach, in which Kirk Ferentz apologized to Parker for Brian Ferentz calling Parker a "dumbass Black player" in front of the team and coaches.
The letter references a report done by the University of Iowa's Athletics Diversity Task Force in which Solomon-Simmons claims Barta and Kirk Ferentz knew about multiple discriminatory events had happened. The letter said that the report had been prepared in spring 2019 but wasn't available to the public until July 2020.
The lawsuit is asking for $10 million for the "loss of earning capacity, loss of professional opportunity, defamation, pain and suffering, mental conditions, mental anguish, PTSD, humiliation and overall emotional distress that our clients have incurred."
It goes on to request another $10 million to establish a fund for athletes, other than the current clients, to compensate them for discrimination.
The lawsuit also asks for the removal of Kirk Ferentz and Brian Ferentz from the program, as well as Barta removed as athletic director. They want the tuition to be waived for all Black athletes who attended the university during Kirk Ferentz's employment and did not graduate with a degree.
The letter requests a series of other actions be taken to support athletes of color moving forward.
The University of Iowa responded to the letter on Sunday, Oct. 18 with the following remark, "The University of Iowa, Iowa Athletics Department and the football program have publicly addressed some of the concerns you raise in your letter. This summer, the university hired an outside firm to conduct an independent review of issues and allegations related to the climate within the football program. Moving forward, we are committed to ensuring that our student-athletes have the ability to be true to themselves and we will not tolerate a system that inhibits authenticity."
The University's letter states that Broderick Binns was appointed the Executive Director of Diversity, Equity and Inclusions for the Athletics Department. The letter also said that Kirk Ferentz created a former student-athlete advisory committee that will help assist the program moving forward.
"The Iowa Athletics Department has a robust degree completion program that provides former student-athletes who have exhausted their eligibility, with the opportunity to complete their primary undergraduate degree," the letter from the University states. "The Iowa Athletics Department annual provides mandated education for coaches and staff regarding diversity, equity and inclusion."
The University declined the settlement demands stating, "We would welcome the opportunity to visit with your clients to determine their interests in participating in activities that assist in creating meaningful change within the Iowa football program, the Iowa Athletics Department and campus community. For those individuals who have not obtained their degree, we are more than willing to assist them in these efforts."
University of Iowa President Bruce Harreld released the following statement: "We appreciate some former athletes sharing insights on their experience while at the University of Iowa. Many of their concerns have been reviewed and addressed. And to be clear, any student athlete that has left the university and did not obtain their degree is welcome to return and we are here to support them. There are several demands outlined in the letter and we are proud of the efforts made to date. We have a path forward that includes ideas and recommendations from many current and former students aimed at making the University of Iowa a more inclusive and better place to learn, grow and compete as an athlete. However, the university rejects the demands for money and personnel changes."